September 8, 2023
ENCLAVE RESIDENT SAYS SHE'S 'IN HEAVEN EVERY DAY'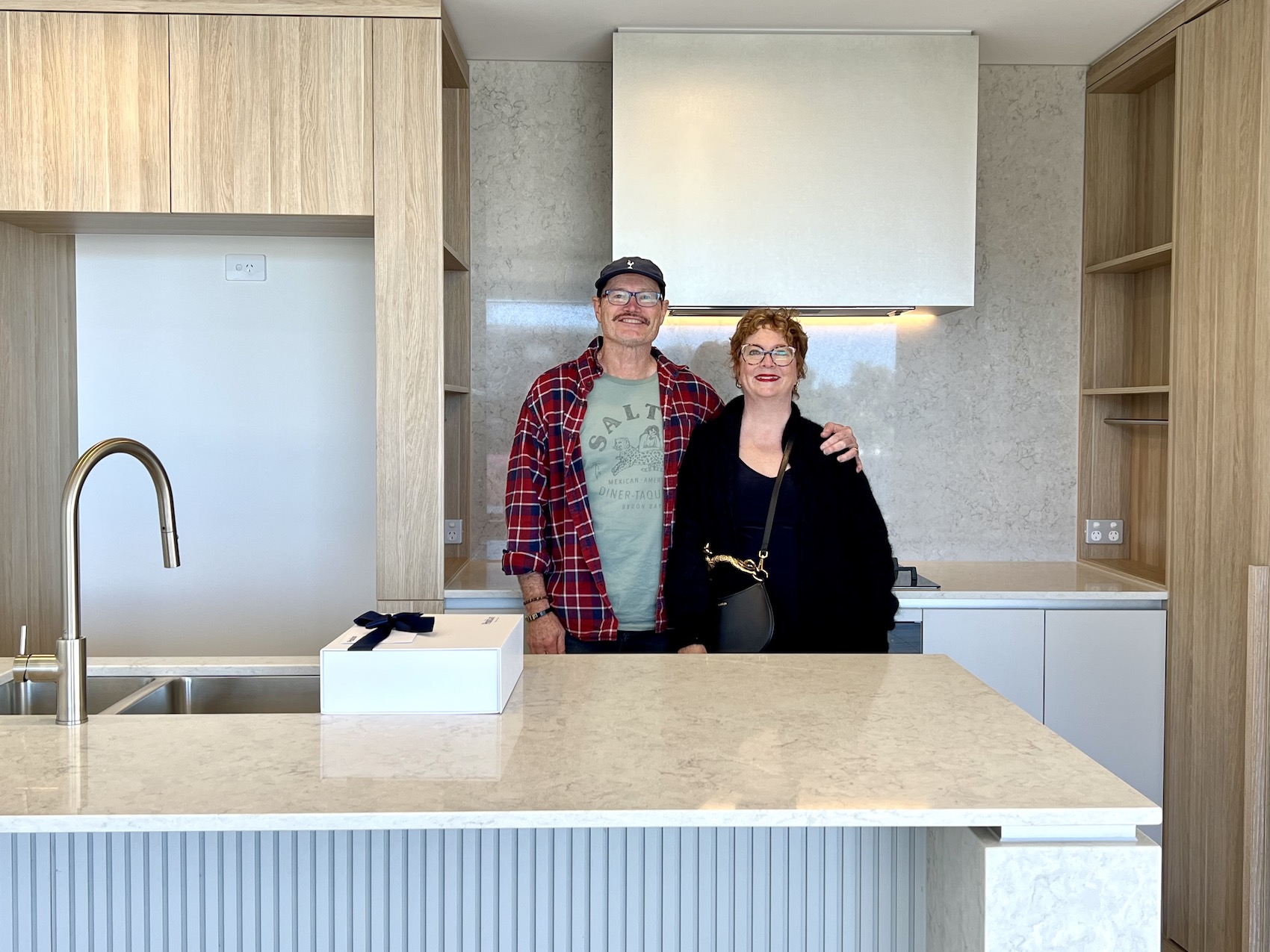 There's lots to love about moving from cold Canberra to balmy Brisbane, but that's not the only reason this new Enclave resident says she's in heaven every day…
Not only were Juliet and Clive on the hunt for a warmer climate to see out their retirement in, they wanted a lifestyle change.
Things on their wish list included somewhere with a welcoming community, easy access to sights and services, and an apartment with enough living space for both of them and their toy poodle, Sugar.
Cue, Riverside West End's Enclave.
Favoured for its expansive floorplans with some residences offering up to 203sqm, the now-completed Enclave community is located in an enviable location, only 50m from Brisbane River and picturesque parklands and comprising two residential towers and resort-style amenities including the stunning rooftop "Eden".
Juliet, Clive and Sugar have been making the most of their new home, using the rooftop herb garden for cooking, hosting family and friends, and visiting the nearby West End Markets in Davies Park each Saturday.
"This has definitely exceeded my expectations," Juliet said.
"I like the vibe of West End. It reminds me a bit of Newtown in Sydney – it's quirky, cool and funky. Plus, our apartment is very luxurious, so we sort of have the best of both worlds."
Undeniably a cultural melting pot full of exciting things to see and explore, finding the right home came down to much more than just the postcode according to Juliet.
"It was important for us to be close to the city and the Cultural Centre as we really enjoy the arts. We looked at apartments in South Brisbane but most of them were smaller," Juliet said.
"Enclave ticked all the boxes. Our apartment has three bedrooms plus a multipurpose room, two bathrooms, a powder room and a large balcony."
"I'm in heaven. Every day I wake up and I can see either the city or the treetops in Davies Park. It's bright, airy and huge," she said.
At the end of the day, Juliet said her and Clive are glad they listened to their intuition and purchased within Enclave.
"We had actually put a deposit on an apartment with a different developer but pulled out," Juliet said.
"We bought this apartment over Zoom and everything went really smoothly."
Juliet said that while buying off-the-plan can be daunting, her and Clive did a lot of research and grew confident in Pradella due to their track record for successfully delivering premium residential communities over the years.
"I'm really happy we decided to go with this apartment," Juliet said.
"We are really happy. The apartment has exceeded our expectations. I thought it would be great but it blew my mind," she said.
"It is way better than I thought it could possibly be!"
At Pradella, we work with reputable industry partners like the team at Position Property to ensure our residents receive the very best experience from initial correspondence to choosing the right apartment and moving in.
We are proud to be leaders in delivering innovative residences which boast elevated outdoor experiences and sophisticated apartment living which is purposefully designed with luxury in mind.
Located 600m from Pradella's final Riverside West End project, The Lanes, Enclave is completely sold out and residents are now making the most of what their new community has to offer.
Pradella's $1.3 billion Riverside West End masterplan is coming to a close. Stage two of the final project within this vibrant lifestyle precinct, The Lanes, is available now. Take a look at Cascade Residences in more detail here.