August 11, 2023
MONTAGUE MARKETS AT A GLANCE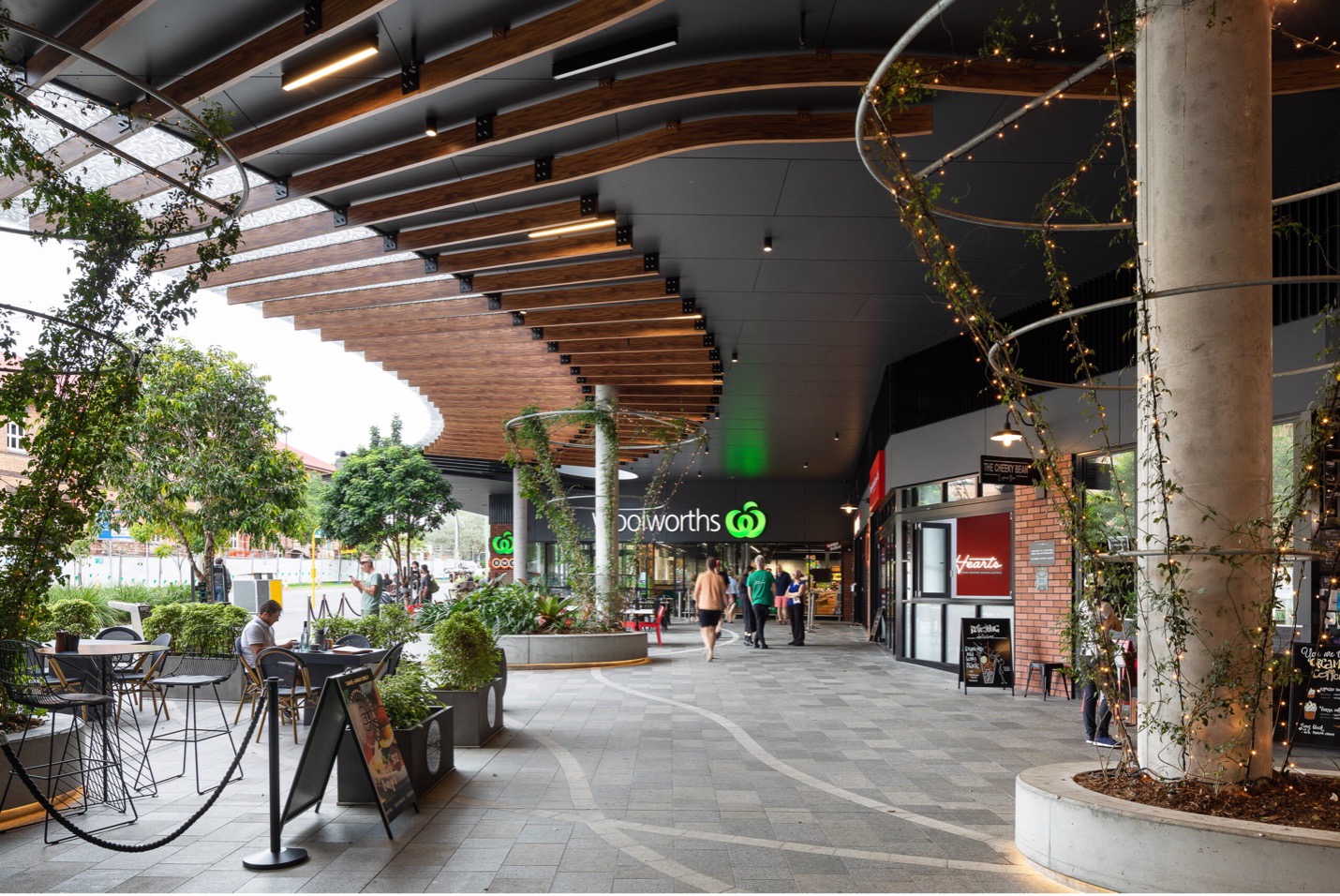 A $175 million project delivered in late 2020, Montague Markets has brought colour, energy and unique retail and dining experiences to one of Brisbane's most eclectic and vibrant suburbs.
Featuring around 20 convenient retailers and services, Montague Markets has undeniably filled the gap for much-needed convenience shopping, new dining experiences, medical and wellness options.
Future residents of The Lanes are only moments away from the conveniences of Montague Markets. Here, we explore them in more detail…
FOOD
Broken Hearts Burger Club: One of Brisbane's best-loved burger joints, Broken Hearts has flourished with one of its more recent stores located in Montague Markets. Renowned for their no-frill burgers, other menu options include a crispy fried chicken sandwich and loaded fries and chilli. Of course, the star of the show is the classic hand-smashed burger.
Cheeky Bean Espresso: Cheeky Bean is known widely throughout the community for its lively, colourful, genuine and welcoming atmosphere. Offering a Melbourne-like coffee experience, stop in at Cheeky Bean and grab an ethically sourced coffee made from Colombian beans from a small local Australian roaster. The best part? The staff are always up for a chat!
Voglia: A local favourite when it comes to authentic Italian food, Voglia is an elegant cafe, restaurant and pizza place designed to satisfy your senses. Voglia is an excellent venue for catching up with friends over a coffee, for a corporate lunch or a sumptuous dinner. This family-owned and operated restaurant is guaranteed to deliver the ultimate Italian feast with an old-fashioned hospitality feel.
Wara Sushi: Said to be the best sushi in Australia, Wara Sushi are renowned for using only the freshest ingredients by their team of professional chefs. A great option for a quick lunch or a light dinner, Wara Sushi serves up the best Japanese cuisine right in the heart of West End.
Taste of China: A family-owned business passionate about serving up an authentic Chinese dining experience, Taste of China is a go-to dining spot for many Riverside West End residents. A business that began at the markets selling homemade dumplings, Taste of China has a mouth-watering menu for you to try next time you're eating out.
SUPERMARKETS & LIQUOR
Woolworths: Dubbed as one of Australia's most modern Woolworths' when it opened in late 2020, this full-line supermarket includes a Cheese Cave, Fish Market, Artisan Bakery as well as drive-through facilities.
BWS: A one-stop-shop for all of your alcoholic beverage needs, BWS offers a huge selection of craft beers, pre-mixed drinks, wine and champagne. So, whether you need to gather some unique ingredients for cocktails with friends or pick up a wine to go with dinner, BWS has you covered.
BEAUTY AND WELLBEING
Wonderful massage: Specialising in remedial massage, deep tissue massage, relaxation massage, reflexology, foot spas, detox treatments, ear candling, cupping and more, it's easy to access gentle remedies for rest or rejuvenation with Wonderful Massage located within Montague Markets.
Tigerlamb: Synonymous with beautiful styling and creating a phenomenal hair experience for you, the team at Tigerlamb is talented, happy, warm and welcoming, plus, their work in colours, cuts and styles are something special.  Pop by for your next hair service and see what all the fuss is about.
La Diva Nails and Beauty: Backed by 20 years of industry experience, La Diva Nails & Beauty is your new local salon for all things nail therapy, manicures, pedicures, nail art, SNS, acrylic nails and waxing. The team is passionate about providing the highest level of personal care to ensure that every client leaves feeling complete satisfaction. Bliss!
Bou's for Men: Bou's For Men is much more than your average barber shop. At Bou's, the team understands what men really want and they help you to always look and feel your very best. With traditional barber techniques and quality customer service, Bou's for Men delivers a traditional barber shop experience with quality haircuts, wet shave treatments, cut-throat razor lather shaves and men's grooming services.
HOMEWARES & GIFTS
Ollie & Lloyd: If you're having trouble finding a unique gift or need to grab something last minute for someone else (or yourself), Ollie & Lloyd has an excellent range of  luxury homewares, contemporary décor and more sourced from Australian and International labels including Missoni Home, Bonnie & Neil, Glasshouse Fragrances.
HEALTH & WELLNESS
Top Health Doctors: Top Health Doctors is a modern practice located in the bustling Montague Markets precinct on level one. Their experienced GPs and commitment to providing the best quality health care at affordable prices set them apart from other medical doctors. And they're right on the doorstep for Riverside West End residents!
Clear Skincare Clinics: Since 1999 the team at Clear Skincare have made the most advanced clinical treatments accessible and affordable to millions of people from skin and acne treatments to cosmetic injectables and laser hair removal. They care about one thing – helping you 'Live your best skin'!
Medlab Pathology: Medlab Pathology is one of Australia's largest privately owned independent pathology practices. The team provides a comprehensive range of pathology services to general practitioners, specialists, medical centres and nursing homes up and down the east coast of Australia.
Queensland Radiology Specialists: Imagine the convenience of popping by the doctors and then heading right next door for your radiology needs. At Queensland Radiology Specialists, this doctor-owned practice is operated by a team of radiologists and technical staff who are highly skilled and compassionate with many years of experience ready to provide individualised care.
Revive: Revive is undeniably a local hub for rehabilitation and fitness, with physiotherapy services, Pilates and massage studio offering treatments for sports injuries, back and neck pain, headaches and more. Reshape, rebalance, reform and revive at this excellent local studio.
Marie Carmody Psychology: Marie Carmody is a Medicare psychology provider and clinical psychology registrar who works with adults across a range of clinical and non-clinical health issues. So, whether you're struggling at work, in your relationships, or within yourself, Marie might be able to help.
Montague Markets Pharmacy: A convenient family-owned and independent pharmacy, Montague Markets Pharmacy staff are committed to providing you and your family with accessible, high quality and cost-effective healthcare. At Montague Markets, all your medical requirements are covered!
Pradella is thrilled to have delivered such a critical retail resources for residents of Riverside West End in Montague Markets. To learn more about Montague Markets, click here.